Hey Guys! Today I will be doing the Rainbow Book Tag. It seems to be a really fun tag and so I decided to give it a go as I love doing tags.
I came across this tag at Carl's blog- The Pine-Scented Chronicles. Do check his blog out!
Rules:
It must be the dominant color of the COVER, not the spine!
If you do not own a book of a certain color, just choose one that has the color on it somewhere
It has to be a book you own and/or has to be the exact edition you read
TAG some people to do it! Whether they be Bloggers, Bookstagrammers or BookTubers

I remember reading this book when I was a small kid. I had loved this book a lot and it had my heart aching. So, please do check this book out. It is especially written for all dog lovers.
Even though I firmly believe that John Green is severely overrated, this was one book written by him that I liked and have reread a huge number of times. I unreasonably like it, even though it isn't all that great.
I found this book to be rather refreshing and unique. Read all my views here.
This book is the third book in the series Anna and the French Kiss. I kinda liked the book but I also didn't… Read the full review here.

I love this series!! I could go on and on and on singing its praises but I have somehow restrained myself and written the review here.
I am not quite sure if this classifies as Indigo, but I am going to roll with it.
This was a mystery thriller which I loved a lot. It was manipulative and amazing. Read the full review here.
I love Agatha Christie's work. It is brilliantly brainstorming and gives my brain quite the jog. This isn't exactly my favourite Agatha Christie book but I do like it.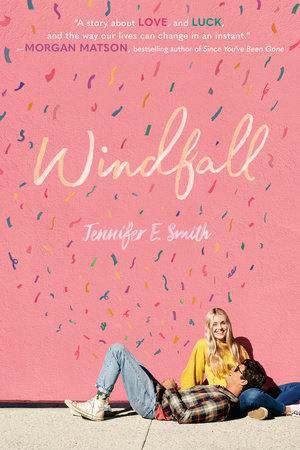 Windfall is one of my favourite YA books and quite possibly one of my favourite books written by Jennifer E. Smith. It was super adorable and I liked it a lot. Read the full review here.
I don't really remember any book that has a brown cover, so I am mentioning a book with a little bit of brown in its cover. Also rarely any of the tags pass by without me mentioning Kasie West, so I am going to mention her using this book :-p. I love Kasie West and I think she is underrated. I also like this book and especially like the male protagonist Hadley. Read the full review here.

This is another book that I love dearly. I have reviewed it and you can read it here.

I was literally seeing this book everywhere before I decided to give it a go. This is actually the book I am currently reading and you might be seeing its review soon! Please let me know what you think of this one!!
I TAG YOU!!
This was my Rainbow Book Tag. Feel free to leave a link of yours in the comments!! Which book's cover do you like best?? Let me know!