Hey Guys!! Today I will be doing an extremely short tag based on one of my favourite book series as well as movie series- To All the Boys I've Loved Before Book Tag!! I am super excited to do this!! I came across this tag at Rose's blog Wandering Between Pages. Do check her blog out, it is A-W-E-S-O-M-E!!
But first, let us talk about the situation of our world. Even though the media projects that the COVID-19 virus has gone, it hasn't. Thousands of people are still dying everyday and even more are getting affected. Just about a couple of days ago, one of my friend's mother and brother got affected. SO PLEASE TAKE CARE OF YOURSELVES AND TAKE ALL PRECAUTIONS NECESSARY. DO NOT STEP OUT OF YOUR HOUSE UNLESS ABSOLUTELY NECESSARY. And always remember- This too shall pass. STAY SAFE!
Let's begin! (Also, I have named my bookish guy loves as well, but that isn't a part of the actual tag)
Kenny from Camp – Your first book love
So, the first 'thick' book that I read and also the one that made me fall in love with reading and also the book itself is The Little Toy Engine.
However the first book boyfriend I had was Levi from Fangirl.
John Ambrose McClaren- The book that got away (a book that may not be your all time favorite now, but you'll always love it)
(Please don't hate me) My answer to this is…. Harry Potter. I will always love the book. But it isn't my absolute favourite anymore.
Similarly, Levi is a guy I will always love but he isn't my absolute favourite anymore
Lucas from Homecoming a.k.a. your favourite LGBTQ+ character or book
So, I do not really read a lot of LGBTQ books. I have got nothing against them but I just haven't ever, you know, come across any of them.
Josh Sanderson a.k.a. the book next door (a book that you'll love no matter how many times you read it)
Turtles All the Way Down!! I unreasonably love this book! Another such book is Fangirl. I just love Levi and Davis!
If I were to talk about a book guy, my answer is Peter Kavinskyyyyyy. He is my true love!
Peter Kavinsky a.k.a. your one true book love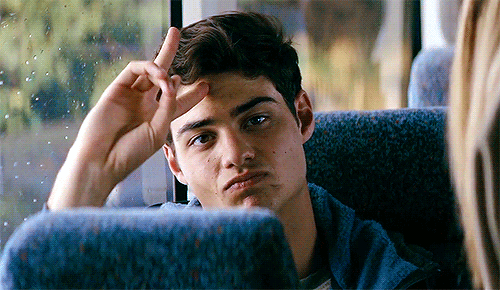 Okay, first of all- I LOVE PETER KAVINSKY AND NOAH CENTINEO WITH ALL MY HEART! These are two crushes that I will NEVER stop having. I JUST LOVE THEM TOO MUCH❤❤❤❤❤❤❤❤❤❤❤❤❤❤❤❤❤❤❤❤ I am literally prepared to ditch my future boyfriend for both of them (I know it sounds mean, but come on!! Its Kavinsky and Noah we are talking about!!! They are just…. so sweet, cute and adorable!).
Okay, I am done fangirling.
I have yet to find my one true book love- it might be the Selection or Throne of Glass or some book(s) else. Let's see what my bookish life has in store for me!
Also, as I mentioned before, Peter Kavinsky is my true book love.
My tagees:
1. Robyn @Robyn Reads Books (A youtuber (How do you have the courage to make videos?) who makes awesome lists!)
2. Meaghan @Maps and Meanderings (A blogger who has awesome travel and reader stuff on her blog- she also has a world map of books and a map of genres- CHECK THAT OUT!)
3. Kaylan @Reading By Myself (An awesome blogger whose blog name describes me)
4. Ely @Earl Grey Books (An amazing blogger who makes awesome lists and does even awesomer tags! What's more? She loves Agatha Christie and Percy Jackson!)
5. Rovie @Rarevenclaw (First off, that blog name! Second off, her content! What else do you need?)
6. Daniella @Reading With Daniella (I tagged her because 1. She loves the trilogy 2. She writes awesome content!)
7. Laura @Laura Broadberry (She too liked the series and writes amazing content as well!)
8. Zea @Generation Zea (A great blogger, you just gotta check the blog out)
9. Chelsie @My Reading Escape (I love your blog name!! She writes fabulous bookish content!)
10. Anushka @Anushka Writes (She writes some quotes and other posts and her love is Peter Kavinsky- so it would be injustice to not tag her here)
11. Tiction @Fictionally Crazy (My bookish twin, her blogs are simply amazing)
12. Jenna @Bookmark Your Thoughts (She recently did a really awesome discussion post, one good post amongst many, do check her blog out!)
13. Tulika @Beat Around the Book (Another cool blogger- and her blog name *sighs*)
14. Cristina @The Rest is History (An underrated blogger who blogs fabulously!)
15. Priyasha @Books and Co. (This is one of the first blogs I followed and came in contact with- Priyasha is really sweet. She also makes awesome lists, so do check her blog out! Plus, that name!)
16. Isabella @All You Need is Love and Books (A newly made blogger friend, you definitely need to check her blog out for awesome bookish content!)
17. The most important tagee of all…
YOU!
That's everyone I tag today! If anyone I have tagged doesn't wish to do the tag for whatever reason, I honestly do not mind!
Hope you had fun reading my answers! Feel free to do this tag even if I haven't formally tagged you! I would love to read your answers!!
Also please create a pingback when you do the tag! If you do not know how to create one please let me know, I will teach you, but please please please create a pingback and do not link to the website.
P.S.- I had disabled my Instagram for a few days, but it is back on and working again- you can reach me out there as well!