Hola comrades(This is officially my new greeting now, got bored of 'Hey Guys'- if you guys have any suggestions, drop 'em in the comments)! So, today I will be doing something I have never done before on my blog- Reacting to Bookish memes! I am stealing this idea from my favourite Booktuber- Jesse the Reader and while this would have been better as a video, I think it will be fun as a blog too. Like Jesse, I too picked these memes from Pinterest.
Before we get started, this is the link to Jesse's video-
He's done another video too, but you can just search for it if you are interested.
So, let's get started!
Number One:
This was like the first meme I saw and I instantly knew I had to share it here because it is SO DAMN RELATABLE!! I have so many unread books lying on my bookshelf, yet I am going to order some more books this week. I know I shouldn't but I cannot help myself! Every single time I turn to that unread pile of books, there is another book that attracts my attention. It isn't my fault!!
---
Number Two:
That feeling is so good! And when it is a person you want to be friends with or it happens in a place where you don't know anybody or with a stranger- the below GIF describes my feelings.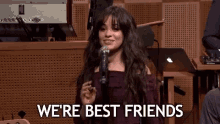 ---
Number three:
I hate loathe it when people interrupt my reading! Like for some unknown reason, everybody wants to talk to me at that precise moment when I am reading. And hence, I listen to music while reading. It helps me get into the zone you know.
---
Number four:
This is so true!! I mean if I end up starting a book which is amazing, I first end up 'trying' to sleep late and then I can not sleep because I am so absorbed in the book and its characters and its plot and its… everything!! I literally drag myself into the real world- and if it is a book which gives me a hangover…. let's not get into the details.
---
Number five:
Well, this is not exactly a meme, but it definitely needs to be mentioned here!! I mean they take away all those beautiful book covers and put in those bad ugly movie ones. It is bad enough that you have turned the book into a bad movie, worse that you have a sticker on the book saying that it is a MAJOR MOTION FILM and now a cover with the actor/actress starring in the film. No, thank you. And you know, the worst thing- you rarely get the original edition anywhere else!!
---
Number six:
Well, my family definitely does not know I have so many boyfriends but my friends and other people do. They are used to my weirdness but I mean, this one is highly relatable. So, to all those people who tell me they are fictional- YOU ARE JUST JEALOUS OF HOW POPULAR I AM!
---
Number seven:
How is this so accurate? I literally might own over a hundred books as of now yet I will always have a shortage of material to read. I will always feel the need, the urge, the want to buy new books.
---
Number eight:
Like duh, if I am reading, the only crazy thing I will be doing is crying too hard or laughing to hard. I don't know why parents even bother telling me to not do something crazy when I am reading. Like, hello?! I am reading! I want to be in that world for a while! Why would I come back to this world just to do something crazy?
---
There was one pin which I have seen before and wanted to know your views on it and here it is:
That's it for today y'all!! Hope you had fun reading this post! Let me know your favourite meme and which two pills you would take in the comments! Also, let me know if you would want a take two of such a post!
P.S.-1 Naemi, this was the funny content I was talking about. I am sure you must have figured out, but still.
P.S.-2 Also, do not forget to fill this feedback form if you haven't already!!