I officially hate cliffhangers and authors.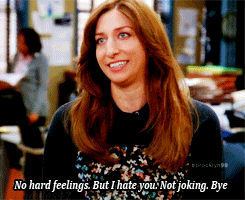 Hey everyone, I have just had my brain whirred by Cinder. It is the first installment of the Lunar Chronicles, a quartet written by Marissa Meyer. And the most terrible thing has happened to me.
So, I was allowed to order three books last month and I ordered the Six of Crows duology and Cinder. My mom said that don't order the entire series as you don't know if you will like it or not- that has happened to you before. (Which is a totally valid point- I ordered all three books of Kane Chronicles, but I DNF-ed the first book, and now all three books are on my shelf, but I don't read them.) But now, I am in desperate need of Scarlet, and no one is there to take me to the bookstore, and my parents aren't allowing me to order the books on Amazon. Even if I do order the book, I will have to wait until 3rd April. And I do not want to read an e-book. I hate my life.
Also, you might be wondering- how many famous books has Riddhi not read? Because, Six of Crows, then Cinder…. The answer is many. I am going through a phase where I am catching up with all the books that most of the blogosphere has seemed to read already.
Anyhow, you are here to read the review of the book, not to know my book crisis. Here's the synopsis from Goodreads:
Synopsis:
Humans and androids crowd the raucous streets of New Beijing. A deadly plague ravages the population. From space, a ruthless Lunar people watch, waiting to make their move. No one knows that Earth's fate hinges on one girl. . . . Cinder, a gifted mechanic, is a cyborg.

She's a second-class citizen with a mysterious past, reviled by her stepmother and blamed for her stepsister's illness. But when her life becomes intertwined with the handsome Prince Kai's, she suddenly finds herself at the center of an intergalactic struggle, and a forbidden attraction. Caught between duty and freedom, loyalty and betrayal, she must uncover secrets about her past in order to protect her world's future.
Plot:
First of all, I want to let you all know that I thought that this book was a typical Cinderella re-telling. But it isn't, trust me.
It does have a resemblance to the original tale, but while the original version focusses on the romance, this one doesn't. And I love this about this book. I love how it has brought world-crisis into a retelling and I just love it so much.
Part of the plot was predictable, but still I just swallowed all of it.
Characters:
The characters were not predictable, but not unpredictable either? And I sorta like that about them?
I loved all the characters, to be honest. I did find Cinder a little annoying at times, but it was bearable. I really liked Doctor Erland and Peony. And I love to hate Levana, Adri and Pearl. As for Prince Kai, he isn't my favourite, but I don't hate him either.
Writing Style:
The writing style is what bought me. I had no trouble getting into the book at all! And it kept me engaged throughout, and it is also why I gave this book such a high rating. I just love love love the writing style!
I do believe that Marissa Meyer is better off writing fantasy, as I liked this a lot more than Instant Karma.
My Rating: ⭐⭐⭐⭐.75
I would definitely recommend it to all fantasy lovers. What are you doing here if you haven't read it? And if you have, let me know your thoughts on the book! No spoilers, please!