Yes I finally watched it!!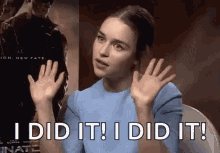 Enola Holmes is 2020 film starring Millie Bobby Brown, Louise Partridge, Henry Cavill, Sam Claflin and Helena Bonham Carter, directed by Harry Bradbeer.
The plot was excellent! It was super good, and I love how it was a canon of Sherlock Holmes. Now, I am familiar with the name of Sherlock Holmes, but I haven't read any of his stories or watched the TV shows, although it is on my To-Do list. But, I do love a good mystery, and this was a …. different kind of mystery, so I did enjoy it!
The actors were excellent. I could feel hatred for Mycroft surging through me, all because of Sam Claflin's acting. The way Henry Cavill presented himself made the viewer know that he is aloof- it was in his body language. Oh, and Millie Bobby Brown, what do I even say? I loved her work in Stranger Things, and here where she had to play a totally different role, personality wise, I enjoyed it too!! And all other actors, Louise, Helena, they were great too!!

Another aspect I enjoyed was the projection of Enola and Eudoria's bond, and I also enjoyed how Sherlock and Enola's bond was developed.
The music I think could be worked upon. It didn't seem as vintage as the tale.
The message of the film was wonderful too! The fact that we pave our own path was emphasized upon a lot, and that is something I respect about the script.
The only thing I didn't like was the ending. I felt it was a little too abrupt, and I think a little more closure with needed.
At the end, when I came to know that the film is based on a book, I understood why it was so fantabulous! I added this book straight to my never-ending TBR list!
I enjoyed the film, especially the message. I would recommend it to mystery-lovers, who want a light headed film. It's a fun watch, one that all ages and sexes will enjoy. It's a good family watch as well.
My Rating: ⭐⭐⭐⭐
Have you watched this film? What did you think of it? If you haven't, do you wish to watch it? Tell me in the comments!!